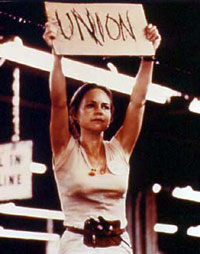 Norma Rae

: Forget it! I'm stayin' right where I am. It's gonna take you and the police department and the fire department and the National Guard to get me outta here! 
It appears that some eBay sellers have finally had it; the changes, the fees, the declining sales, the back-room deals with Buy.com and other Internet 500 retailers. For many small sellers there are no viable alternatives to eBay. 
No, they aren't screaming for a union, like Norma Rae, but they want a return to the eBay they helped build and they want Buy.com and the big retailers off their site.

In the past, sellers have voiced their outrage at eBay management, trying to get the press to see their plight. They've tried boycotts, protests, talked of class action lawsuits and more, but nothing really came of it. Now it appears their tactics are changing, or more accurately their "focus" is changing.
Let me lay the groundwork:
Earlier this year, eBay negotiated a special deal with Internet 500 retailer
Buy.com.
 Though details of their arrangement have never been made public, it doesn't take a rocket scientist to figure out that Buy.com isn't paying listing fees. This deal was exactly what eBay Founder Pierre Omidyar was concerned about when he coined the phrase "level playing field" and that idea was reinforced during a video interview he had earlier this year.
This clip is 2:57, but pay close attention to what Omidyar says beginning around the 2:30 mark. I've quoted him below."
... h
ave people, by virtue of ...of ... their stature outside of the eBay community, some how, be treated better. You know like special deals, behind the scenes, because they're a big retailer and we want to get them to come onto eBay, that kind of stuff, that would have been ... that's a disaster. That's what I meant by level playing field.
" 
So you can imagine the uproar this caused in the eBay community, and I'm sure that Buy.com was surprised by it as well. After all, they were just doing what any large business would do; negotiate the best deal possible. 
The unrest grew as rumors surfaced that more
Internet 500 retailers
would be coming onto the site in the fall. 
Enough is enough apparently, because sellers are now organizing against a new adversary. They are no longer protesting about eBay's behavior, instead they are concentrating their attention squarely on Buy.com and the other Internet 500 retailers who are waiting in the wings. 
I received a letter today, sent to me anonymously, directed at Buy.com, with assurances that similar letters would be sent to other Internet 500 retailers who might be considering taking eBay's offer. I normally would have dismissed this, but there is a groundswell building here that has some legs.
I've decided to reprint the entire letter in this post, and I've also posted it on the web 
using Google Docs
. This letter was directed to Buy.com, but the sender stated they would send similar letters to other Internet 500 retailers.
Topic: Why we're not buying at buy.com




Nobody likes a bully. They push and shove to get their way and don't care about others. Pretty selfish behavior.




Usually they get away with it too. If they are bigger and stronger, who is to stop them?




Well we can't speak for patrolling the school corridors, but when it comes to companies like buy.com bulling their way onto the eBay marketplace we believe it's time to take stand. Together.




Everyone knows that eBay is the best place in the world to find a huge variety of merchandise. It is the self-titled "World's Greatest Marketplace". The diversity of eBay's products is matched only by the diversity of people who buy and sell on the site. In fact, it is these people, millions of them around the country, who actually create the eBay marketplace. Without them, there would be no buying and selling on eBay.




Approximately 1.3 million people make a living selling on eBay. Most are hard working Americans like you and me who are trying to make ends meet in a very tough economy. Some are stay-at-home moms and individuals with disabilities who count on non-traditional jobs, like selling on eBay, to pay their bills.

We applaud all of their efforts, courage and hard work and want to support them.




So who is bullying our hard working neighbors on eBay? They are what eBay calls "Diamond Sellers" and they get special treatment and fee discounts on eBay that gives them an unfair advantage over the smaller sellers who are the heart of eBay.

These Diamond Sellers use their size to push other sellers aside by listing thousands of items and monopolizing the categories they list in so eventually they get most of the customers on eBay too. Not exactly the "level playing field" ideology that was a founding principle of eBay. So Diamond Seller growth is coming at the expense of small businesses who conduct hard, honest work every day…Not cool.




What type of company you ask, would do such a mean thing? I mean what type of a CEO wants to answer this question:

"Do you think it is ethical for your business to enrich its executives and shareholders at the expense of working mothers, disabled persons and small businesses around the country?" Uh, next question PLEASE.




So we would like to ask senior management at buy.com what they were thinking when (based on what we can see on eBay) they decided it would be okay to dump hundreds of thousands of items onto the eBay marketplace in return a sweetheart Diamond seller deal on listing fees?* 




* All sellers must pay a fee to list an item on eBay in order to avoid crowding the marketplace with stuff. eBay has historically spoken of how important this listing fee is to ensuring the diversity and quality of products on the marketplace but does not disclose the specific terms given to Diamond sellers. 




Do you think buy.com considered the 1.3 million hard working Americans around the country that rely on eBay to make a living? Did buy.com think that a stay at home mother raising children and using her eBay business to help pay the bills would get a job as an accountant instead? Do they think that an eBay that resembles the local mall and only sells homogenized goods from big name retailers is what this country needs more of? 




We hope not. We're guessing they didn't think about these things at all and maybe it's not their fault. The eBay team and the buy.com team probably had some meetings. Maybe even a nice steak dinner and they looked at the numbers together and smiled and said, "Hey, we can definitely afford desert now!"




Fortunately it's not too late for buy.com. They can do the honorable thing and excuse themselves from their eBay "test". They probably didn't know how many businesses they would wipe out with this deal. Hopefully they have a better understanding now.




After all, if we wanted to buy from them we could simply go to the buy.com website. Isn't that the reason they added us to the buy.com mailing list (we don't recall opting-in to that, hmmm) after we made a test purchase on eBay?!




But until buy.com removes their items from the eBay marketplace we won't be buying from them. We won't be buying from them on eBay and we won't be buying from their website either. We won't be buying from them now or when we start shopping for holiday presents this year. In fact, we're not sure why anyone would want to support buy.com at a time when they are putting our friends and neighbors out of business. 




After all, nobody likes a bully.

And as for any other large retailers (you know the ones with the huge customer service departments that make you wait on hold for an hour when you call – if you can even find the phone number) who are considering selling their mass-market products on eBay, we strongly encourage them to reconsider.




So, are we calling for a buy.com boycott you ask? No, not yet.
Now for my 15% on all of this: 
I don't believe that Buy.com and these other retailers are bullies, but they do have bargaining power that allows them to negotiate deals that are not available to regular sellers. In fact, the Diamond Seller level hasn't been bestowed on any existing eBay sellers, as far as I know, even though several have met the requirements. One such company was recently told, "don't call us, we will call you" when they tried to open up Diamond talks.
Now, I don't know what impact this letter will have on Buy.com, but I do believe that other Internet 500 retailers, who receive similar letters, will think long and hard before they sign their Diamond deals. 
Honestly, do you think
Zappos
, 
Best Buy
or
J&R Electronics
would be willing to put their brand on the line in this kind of environment?  I guess, it might be worth it, if sales were astronomical, but even Buy.com's sales have declined since the launch of FP-30, which can't make them too happy. 
Why would any large retailer take the risk of bad PR and mediocre sales, just because eBay threw a great deal at them. Not to mention the extra work dealing with the high maintenance eBay customer. Just the fact that eBay has to bend-over for these retailers and give them sweet-heart deals, is evidence they don't have any real leverage. I asked for a deal every year I sold on eBay and they always told me, "we don't negotiate on price".
Will this protest fail, like so many have failed before? I'm not sure, because these big online retailers have something to lose here. They've worked long and hard to establish their brands, and they would have to be very confident of the rewards in order to risk those brands. 
Where does this leave eBay? Are their 4th quarter earnings estimates, dependent on these Diamond sellers? What happens to eBay, if this little letter campaign is successful? What happens if Buy.com leaves the site, because it just isn't worth it? Where does that leave the "new eBay"? After-all the "new eBay" is being built for these Internet 500 retailers.
Well, we are soon to find out!
Just my 15%